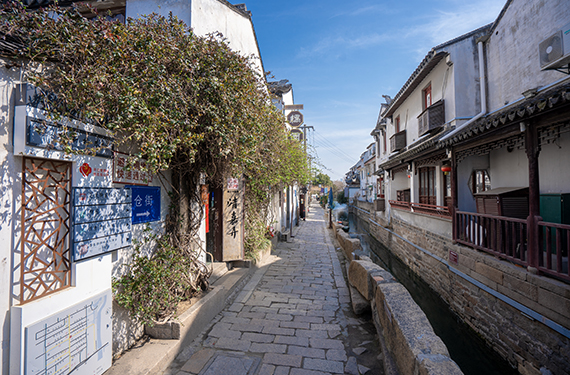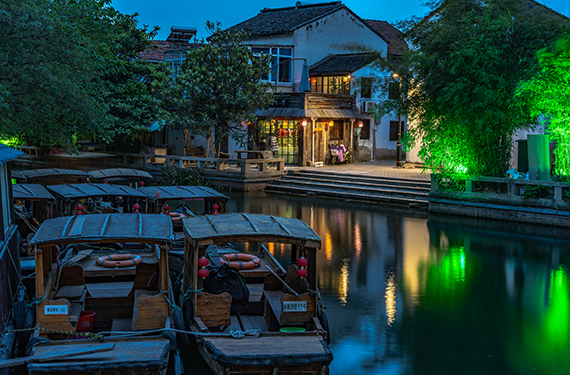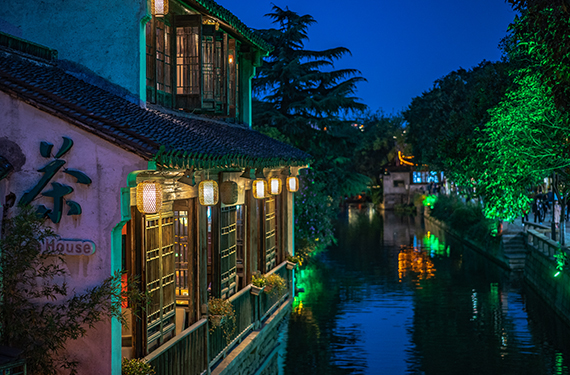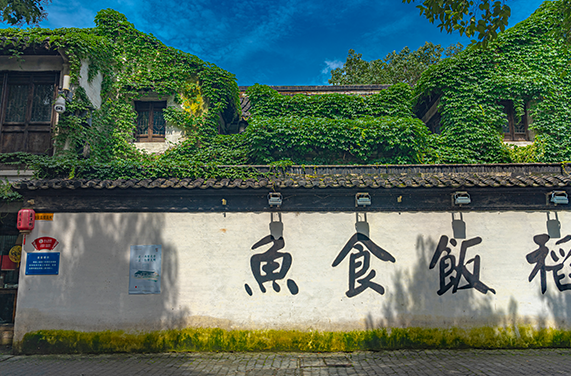 South of Humble Administrator's Garden, with a history of more than 2500 years, Pingjiang Road Historic Street is the most typical and complete ancient street in Suzhou. Centering on Pingjiang Road, it is a small river-side road with a total length of 1,606 meters, hosting alleys such as Xuanqiao Alley, Daru Alley, Weidaoguanqian Alley, Zhongzhangjia Alley and Daxinqiao Alley on its east and west sides, in particular, multiple water lanes in the east, witnessing parallel water and land traffic, river and street neighboring, highlighting characteristics of water city south of the Yangtze River. Only a lane away from Guanqian Street in the west, it witnesses a completely different quiet and quaint atmosphere. It can be described as an "ancient town" free from tickets. Strolling around, tasting snacks while visiting, usually make visitors quite pleasant.
Slowing down, stepping on the stone path, visitors would notice nearby lush camphor trees, stone fences, stone tables and benches, observing old houses, white walls and gray tiles, wooden doors and windows, elegant and charming. The street retains lane old look, hosting properly transformed bars, souvenir shops, and cafes, similar to residential buildings. Multiple residents available, visitors should avoid "breaking into private houses".
Bridges here also have their own characteristics, such as delicate drum stones, moire stone pillars at both ends of bridge railings, railings carved with double dragons playing with a bead, green bamboo, flowers and other patterns. The street hosts Kun Opera Museum, Museum of storytelling and ballad singing in Suzhou dialect, offering wonderful performances. Coupling Garden on the east side and Lion Groove on the west side are worth visiting. At the upper reaches of the Pingjiang River, it is available to take a boat to visit the Pingjiang River. The reference price is 150 Yuan/boat, taking 6-8 passengers and taking about 40 minutes. In the evening, lights shining on small bridges and flowing water, make streets and residents particularly intoxicating.
The historic street hosts multiple interesting shops that literary and artistic youths love to visit, such as Cat Sky Center, a petty bourgeoisie bookstore, very lively and attractive, offering "postcards for the future", small flower shops, Suzhou-style clothing shops, quite distinctive.
Of course, it provides sufficient delicacies. Yushifandaotuzaoguan is a popular private restaurant, generally requiring reservations in advance. Huamaosuannaishitang provides Maosuannai 15 seconds after kissing with your partner. Foodies can enjoy themselves.